Market Statistics
---
October, 2013
www.verani.com
Volume 3 Issue 10
---
Hollis, NH - Single Family Properties
---
October Headlines
Hollis
Other Towns In Hillsborough County
Changes Favoring Buyers
October, 2013
% Chg From Oct, 2012
Unit Sales
8
-33.3%
Market Time (Days)
156
143.8%
Price per Sq Ft for Sold
$136
-6.5%
Listings Under Contract
4
-20.0%
Changes Favoring Sellers
October, 2013
% Chg From Oct, 2012
Median Sale Price
$558,950
45.6%
Sales to List Price Ratio
98.1%
0.2%
New Listings
10
-28.6%
---
---
Sales
There were 8 unit sales in October. This is down 33.3% from 12 in October of 2012. This is the lowest unit sales have been since 4 in April, 2013. Sales/list price ratio in October moved up to 98.1% from 95.8% in September.
Prices
Median price in October was $558,950. This is up 45.6% from $384,000 in October of 2012. This is the highest median price has been since February, 2012. 3-month median price of $409,250 in October was down marginally from $430,000 in September but up modestly from $371,500 in October of 2012.
Market Time
Days on market of 156 in October was up considerably from 91 in September and way up from 64 in October of 2012. This is the highest days on market has been since February, 2013.
---
Change in Median Sale Price for Single Family Properties YTD From 2012 To 2013 for Towns in Hillsborough County Ranked by Best Performance
Town
% Change
Hillsborough
22.55%
Pelham
19.95%
Hollis
15.22%
Hudson
12.39%
Litchfield
9.49%
Nashua
9.25%
Milford
9.18%
Manchester
6.74%
Merrimack
6.49%
Goffstown
5.90%
Data From: NNEREN
Towns with an average of at least 5 sales per month (maximum of 10 towns)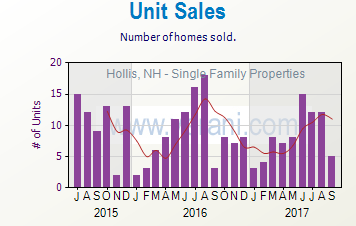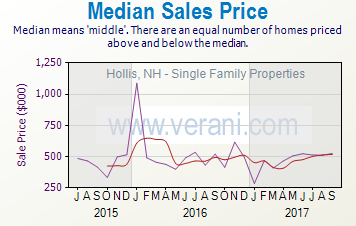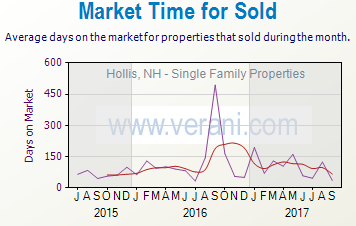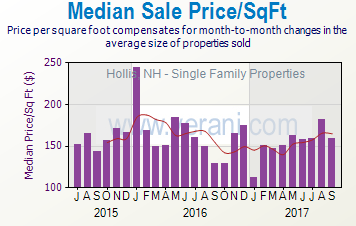 Copyright © RealtyMarketPublishing, 2013

Data courtesy of: NNEREN

Listing and sales information comes from various sources and may not always be accurate. No representation or warranty is made as to the accuracy of this information. You should verify any information that is important to your buying decision.